RESULTS
Students who receive fast, effective feedback on their writing achieve two years of growth per year.
The Graide Network is built upon an ever-growing body of research and extraordinary student results which confirm feedback as one of the most powerful drivers of learning growth and student achievement.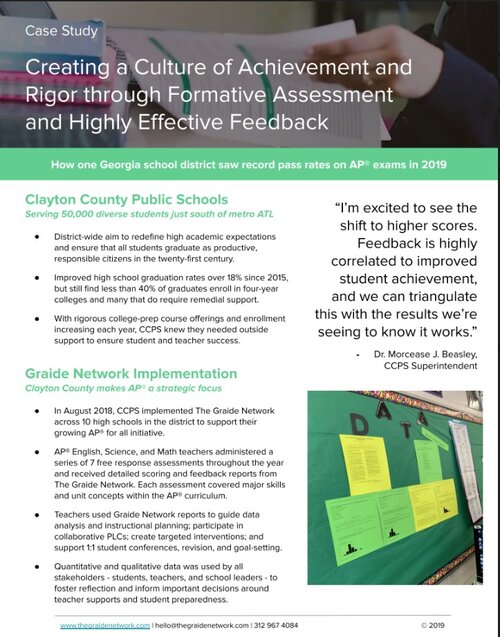 Clayton County Public Schools achieve record AP® exam pass rates
Clayton County Public Schools, the 5th largest school district in Georgia, serves a diverse population of 50,000 students just south of metro Atlanta.
As part of their district-wide aim to redefine high academic expectations, CCPS partnered with the National Math and Science Initiative and The Graide Network to support their growing AP® initiative. Building on several years of progress, the district achieved record-setting pass rates on AP® exams.
Prussing places in top 20% for NWEA MAP® scores for grades 5 through 8
Prussing Elementary is a Level I plus K-8 school in the Chicago Public Schools district serving the diverse Jefferson Park neighborhood. 70% of the student population qualifies for Free and Reduced Lunch and over 30% of students are English Language Learners.
In 2017, Prussing adopted The Graide Network to support student writing and data initiatives in the middle school and increase engagement and student-led learning. Prussing has since outperformed district and nationwide benchmarks on end-of-course exams - plus over 90% of students are asking for more Graide Network feedback!
ReGeneration Schools outperforms more than 61% of Illinois schools
ReGeneration Schools operates three public charter schools on Chicago's Southside, serving nearly 1,700 students in grades K-8 with a college prep and character mission. Over 90% of the students are economically disadvantaged and over 89% are African American.
Today, ReGeneration outperforms 98% of Illinois schools with similar demographics. Their success is a combination of factors including investing in teacher development, implementing rigorous Common Core aligned instruction, setting high expectations, and - with the help of The Graide Network - using data to guide decision-making, instruction, and teacher PD.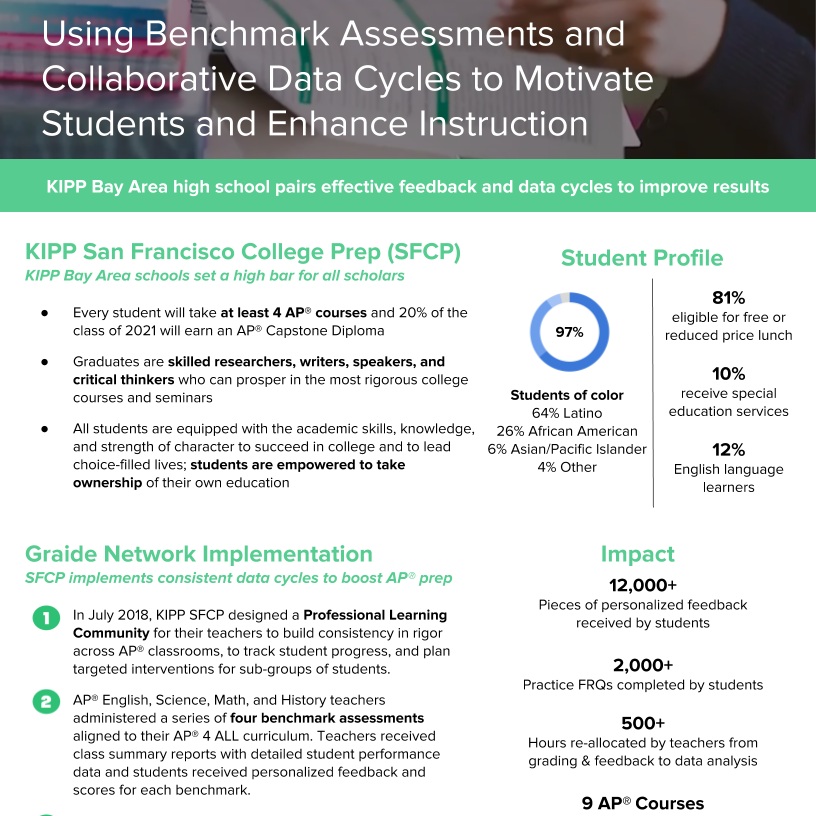 KIPP SFCP students complete over 2,000 mock FRQs to prep for AP® exams
KIPP Bay Area schools set a high bar for all of their scholars through a rigorous college-prep curriculum and ambitious AP® for ALL objective.
In July 2018, KIPP SF College Prep set out to implement an aligned and highly effective formative assessment and test prep framework for AP® courses. In partnership with The Graide Network, AP® students received more than 12,000 pieces of personalized feedback and took over 2,000 mock FRQs. The results? A 6% increase in AP® pass rates YoY and a 20% increase in scores from No Recommendation (1) to Approaching Qualified (2).
Ready to increase student learning and scores?