Here are some of the ways schools are leveraging The Graide Network to achieve their strategic priorities.
"The value of my Graider is having a second opinion aside from my teacher looking at my work. The more feedback I get, the more I feel invested to get a better score."
- 10th Grade Student, Chicago, IL
"Now, The Graide Network creates digital piles for me...I'm able to group students more effectively by areas of need and create targeted, personalized lesson plans and assignments for them."
- 7th Grade Teacher, Chicago, IL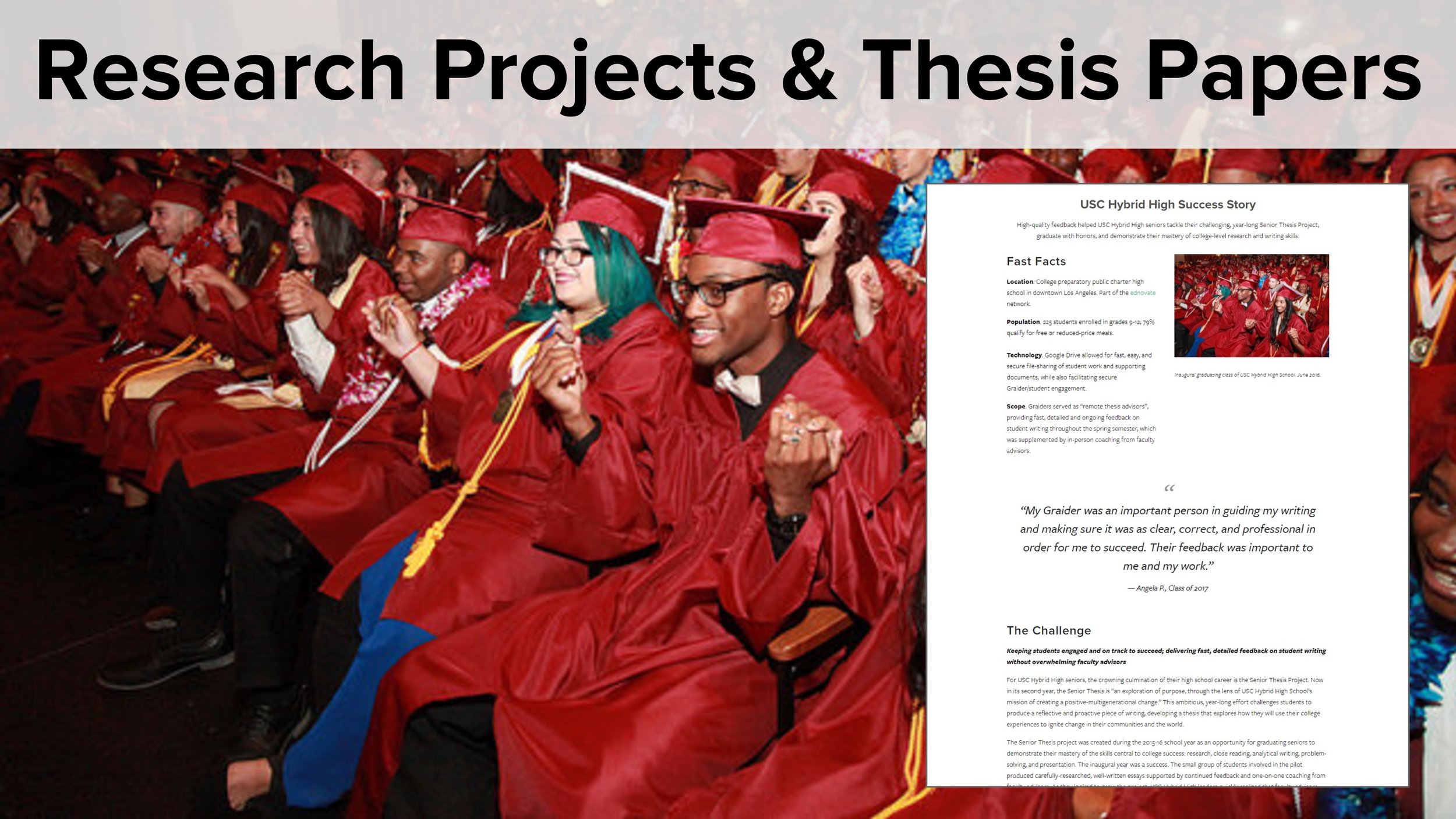 "Without my Graider, my writing would not be at the point that it is at now. They provide detailed feedback that is useful, and they also gave me another perspective on my writing."
- Kiana R., 12th Grade Student, Los Angeles CA
"In working with The Graide Network, we accomplished our goals and much more. I can see how this program could help us solve the bigger goal of feedback for students and teachers."
- Ms. J. Beth Menzies, Seagoville HS Instructional Coach
"Grading support is the fastest and most efficient way to get critical data into the hands of our teachers. It ensures every response is given normed, detailed consideration, and it allows our teachers to focus on what they're best at: improving student outcomes."
- Luke Brewers, ReGeneration Schools Data Analyst
"We need to closely measure student performance to validate the effectiveness of the curriculum and test various hypotheses around computer science education."
- Brenda Darden Wilkerson, Director, Computer Science & Information Technology Ed., Chicago Public Schools
"My Graider was an important person in guiding my writing and making sure it was as clear, correct, and professional in order for me to succeed in presenting my senior thesis. Their feedback was important to me and my work."
- Angela P., student, Los Angeles CA

"Spectacular feedback under areas of growth. Used student-friendly language so students can make real improvements."
- Ms. Buster Grade 9, ELA, Dallas, TX
"Great attention to detail and positive feedback really motivated my students to engage and improve."
- Ms. Ortega Grade 10, ELA, Dallas TX

"There was narrative feedback for every student that was specific to their writing - more than I could hope for as the instructional coach at a high school where every teacher has 150+ students."
"You really know how to critique informational essays. Comments were excellent. Scoring was very accurate - most scores were just like the ones I would have given. Very prompt - I received the scores the day after I posted the assignment."
- Ms. Miller, English III, Clarksville TN
"Amazing attention to detail and feedback; you have crafted responses that are useful and specific enough so that students can use them to grow their writing."
- Ms. Smith, AP Literature, Clarksville TN

"Teaching an AP history class can be overwhelming. I have to teach not only reading and writing, but I also have to teach content well enough that students can pass the final AP test. Admittedly, writing can get lost in my classroom because of this. The Graide Network gave me an extra set of eyes."
- Ms. S, 11th Grade AP History Teacher

"I pursued The Graide Network out of a need to reclaim some time. I loved looking at it as a timesaver. But I found it is most powerful for the students and it supports their learning in a unique way that I can't offer."
- Mr. Craig Hanson Grade 8, Science, Old Town ME

"One of the best applications and programs utilized this year is hands down The Graide Network."
"Being able to see such descriptive feedback about my own students reminded me how important such feedback is and what a student is able to take away from it. I was also able to self-check my own biases about their writing."
- High School History Teacher, Chicago IL
"Combining the freed time and returned data, I could target struggling students knowing that all students got quality feedback."
- Middle School ELA Teacher, Chicago IL
"The feedback given on my essay gave me a different perspective my work. Even though some of my writing made sense to me, I realized it would not make as much sense to an outside reader."
- 10th Grade Student, Phoenix AZ

"Getting the comments was like Christmas for my students!"
- High School ELA Teacher, Clarksville TN
"Students knew exactly where they needed to take their own learning based on the effective feedback given by the Graiders"
- Middle School ELA Teacher, Chicago IL

"The individual letters of feedback lead to silence in the room while students entered into a moment of introspection while reading the specific and actionable feedback from the Graider."
-Mr. John Damaso, 10th Grade AP EngTeacher

"[The Graide Network is] committed to allowing teachers to focus on what we do best - be fully present for our students in the classroom - without being inundated with stacks of papers looming in "to grade" piles."
- Middle School ELA Teacher, Chicago IL