Jamie is a hiker.
Last year, Jamie hiked Mount Washington for the first time. Only afterwards did she realize that she had loved it. During the climb, it was a challenge. Jamie described, "I could see the top for so long before reaching it. We hiked for four hours while seeing the top but feeling like we'd never reach it! It was a big lesson in perseverance." She officially caught the hiking bug.
It's a good thing Jamie likes a challenging climb! She is currently a graduate student pursuing a Master's in Elementary Education at Boston University and graduated from the University of Michigan with a Bachelor's Degree in Psychology. Her one-year graduate program is jam packed - she student teaches full time, attends class in the evenings, and works part-time on the side.
She starts her day at 7:00 am with a full day of student teaching in a third grade classroom. Then, she does homework or grades papers until her own classes starts at 6:00 pm (she's taking two seminars on education and Algebra and Geometry for Elementary Students). Somehow, she still manages to find time for hiking, working as one of our all-star Graiders, and goes to bed by 10:00 pm!
I was thrilled to have the chance to interview Jamie and learn more about what excites and motivates her to keep climbing in her professional pursuit of teaching:
How did you decide that you wanted to become a teacher?
I was a psychology major in college and knew I wanted to work with children. I just didn't know exactly what I wanted to do after graduation. So I worked for City Year for two years. That program helped me figure out that I wanted to be a teacher. Now I'm getting my Master's! My psychology degree is coming in handy, too. Understanding child development and knowing that kids are in different stages of developing gives me a helpful perspective in the classroom. Kids' behavior can sometimes be frustrating to adults, but it's less confusing if you keep in mind the stages of their development.
This summer, I will be working with the Outward Bound program. I'll be working with students from Boston Public Schools to do hands on science education regarding ecosystems on Thompson Island in the Boston Harbor. After that, I hope to get a full time job teaching. (obviously, we'd consider any school wildly lucky to have her!)
What kind of classroom do you envision creating for your students?
Making slime with my girl lunch group
I really want to incorporate a classroom community. In my student teaching classroom, we start every morning with a unique greeting. Sometimes, we'll greet each other in a different language. Other times, we'll pick a unique character, like we pretend to be secret agents. I love hearing the kids greet each other as secret agents. This small practice centers the students and me to start our day as a community, feeling that we have built this classroom together. I want students have autonomy in their own learning and their classroom community. I also want to incorporate my own sense of humor in the classroom. I'm serious about learning, but every day students should find joy in their classroom.
My favorite part of teaching is the one-on-one interactions with students where I get to know them on deeper level. Cultivating individual relationships with each student in a large classroom can be hard, so I look for opportunities to spend special time with the line leader of the week when taking class to music, for example. I'm always looking for those special times to hear more about what my students do for fun, their hobbies and interests. I would love to continue teaching third grade in the future because third graders are in a fun stage of still figuring things out but also coming into their own person. Plus, their growth from beginning of the school year to the end is incredible to see.
How has working as a Graider translated to teaching in your classroom?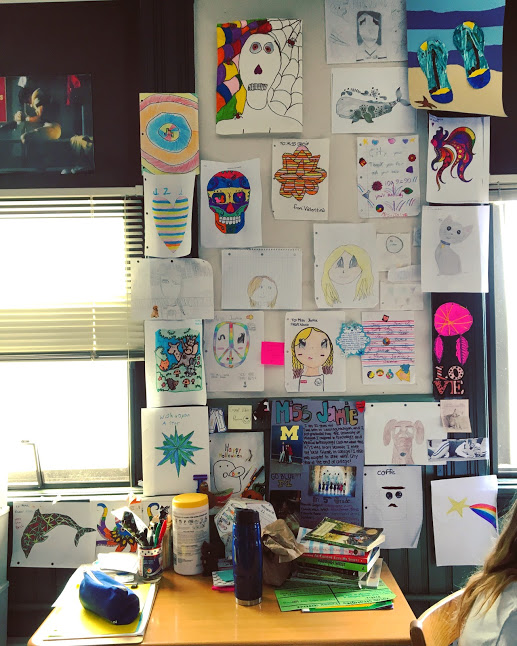 My desk is decorated with my students' artwork
I started working as a Graider because I knew that it would really help me in my career. Even grading AP English Literature still helps because I know that's where my elementary students will eventually be. I can see exactly how my feedback for elementary school students will help them be prepared for high school and AP-level courses. As a Graider, I've been helping 5th graders on writing a "paragraph of the week." I have seen how they've improved so much over six weeks at crafting a hook or a conclusion. I have taken that paragraph writing concept back to my student teaching. Many students can be concerned about writing a paragraph, perceiving it to be too difficult of a task. However, I have seen how breaking it down, helping them craft it, and doing it every week has made a big difference in their writing!
P.S. Jamie's best grading tip is to write strengths for the student first. "This helps to get me in positive mindframe. Then, I can look to build their areas for growth from their strengths."
Thank you, Jamie, and congrats on being Graider of the Month! Teachers and students agree - you're making a big impact on learning already and you're just getting started!