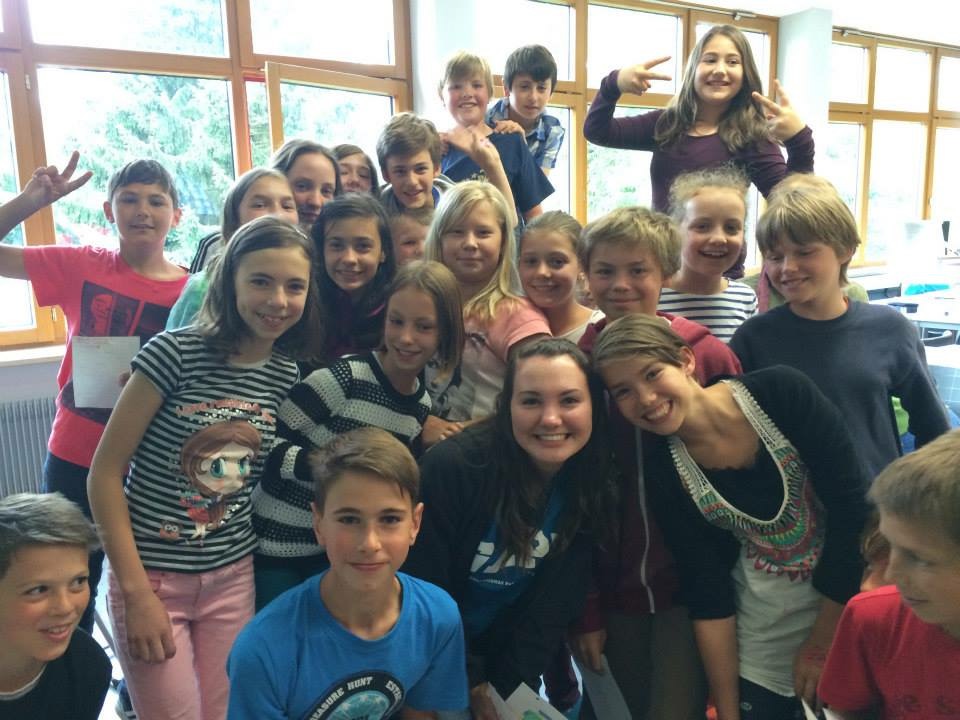 We are pleased to announce our December Graider of the Month, Ashlyn Saab! Ashlyn is a 4th-8th Math/Science Education major at Texas A&M University - go Aggies! She will graduate with her Bachelor's degree in May of this year and then stay on one more year to earn her Masters in Curriculum and Instruction in August 2020 before entering the classroom fulltime. This past semester, Ashlyn has taken The Graide Network team by storm - wowing us with her highly effective, encouraging feedback, her ability to go above and beyond in supporting teachers, and her unwavering effort and passion for education. Not to mention some pretty stellar teacher reviews.
Officially in the Classroom
Just this past Friday, Ashlyn wrapped up her first official week of clinical teaching. This semester, she's teaching in a 5th-grade science classroom in an intermediate school (grades 5 and 6). According to Ashlyn, the week had a lot of highs ("I loved meeting all of my students, I have an amazing co-teacher, I even got to teach a few lessons!") and no lows to speak of.
No lows?! I was skeptical at first, but that positive and impassioned attitude isn't at all surprising once you get to know her. "I absolutely love children of all ages, and I am crazy passionate about pushing them to be the best they can be, both academically and as a whole. I have always loved learning, and I love to help other students develop that same love for learning."
We only chatted for 30 minutes (well, perhaps it was 40… we may have lost track of time!), but I was truly blown away by Ashlyn's love of learning and love of children. It came through in everything she said. I also loved getting to learn a little bit more about this incredibly talented future teacher:
She's a true jet-setter and has set her sight on teaching abroad.
"I love traveling! Currently, I'm busy planning a month-long trip to Asia this summer. I love traveling, I love exploring, I learning about new cultures, meeting children from other cultures... My goal at one point in my life was to teach in every continent. I realize that might not be realistic now, but I would love to teach abroad one day. I'm really passionate about getting to know a diverse group of people and students. It would be incredibly fulfilling to travel and teach internationally."
She doesn't back down from a challenge.
"Middle school is a really important time in students' lives, and it's also a really hard time in their lives socially, physically, and emotionally. A lot of people run from that time, but I want to be there to say, 'Hey, no. You can do this. You can push me and challenge me, but I'm going to push back. And show you that you can do this.' I want my students to know that they have someone that genuinely cares. In my classroom, they have a place where they are safe and cared for."
Her #1 goal is to build a love of learning and self-confidence in her students.
"Lots of people are scared about science, which is why I chose to teach it. I realized, if I want there to be a change, I need to be that change. I need to take that step and show students that science and math are accessible. I want my students to understand that there is a power in learning. It's fun and interesting, and it's not just about a grade or test score. Learning should build confidence. I want my students to feel confident. That's a big part of the reason why I love The Graide Network. It's not just scoring, it's all about giving feedback and encouragement. Picking students up and helping them on their learning journey."
Her own teachers have been her biggest source of inspiration.
"In high school, I hated science. Then in college, I had a professor who changed everything. She made science exciting, she made it interesting. Her ability to completely change the way I looked at and learned a subject really inspired me. I was also really inspired by a lot of my teachers in high school. I had a few English teachers, in particular, who were absolutely incredible. They allowed for a lot of personal choice in their classroom. They gave students a lot of freedom of expression. I really enjoyed that, because I got to be exactly who I wanted to be. Their class was structured, of course, but they didn't have overly onerous rules. Instead, it was a really interactive, self-directed classroom. I'm excited to bring this framework to my own classroom soon."
She deeply understands the importance of learning vs. grades.
"One of the biggest challenges today for teachers, and for students, too, is the intense focus on grades and competition. I know grades are important, but we focus way too much on numerical scores. Students are more than a number, more than a test grade. There is so much more to learning that getting a good score on a test. My goal is to spend less time teaching to the test and more time preparing students to be successful in life."
She's got a VERY bright future ahead of her.
So what's in store next for Ashlyn? Teaching, of course! Once she completes her Master's program next spring, she'll be looking to teach middle school science or math - in Texas or maybe abroad! Wherever she ends up in the world, we are confident that she will be a success and continue to have a tremendous impact on the students and communities she serves.
Thank you, Ashlyn, and congrats on being Graider of the Month!
P.s. Ashlyn's tips for new Graiders
Communicate, communicate, communicate. Don't be afraid to ask questions!

Always try to be as positive and encouraging as you can be. Don't be informal or casual, but be personal. Talk to a student like you know they would appreciate and be warm. Even if you have to score really low, you can still find something positive and encouraging to say.

If you're working with really emerging writers who have a lot of issues in their papers, don't just wait until the last minute! Reading those essays back to back to back is overwhelming and it can be hard to stay positive. The best advice is to start early and take plenty of breaks to stay in a positive mind frame.